SMCC Archive 2003
---
After two attempts to get together to sail were aborted due to spring rains, some SMCC members finally got together to sail up the Patuxent River from Solomons on a weekend in late June.
Conditions on Sunday were great. Unfortunately, the trip was held Saturday.
The destination was the Seabreeze Restaurant in Sandgates MD, 9 miles up river. This was the same destination as the 2002 Labor day sail. Of six boats that said they were coming, five showed up Saturday morning in the light air.
Sailing was Bobby with John on Bobby's new Inter 20, Patrick with Matt on his Nacra 5.5SL, Pete with Linda on his Hobie 16, and Troy and Lynn, and Mark and family, each on their Nacra 5.2's.
Below are 4 of the boats launching. Mark was late getting set up.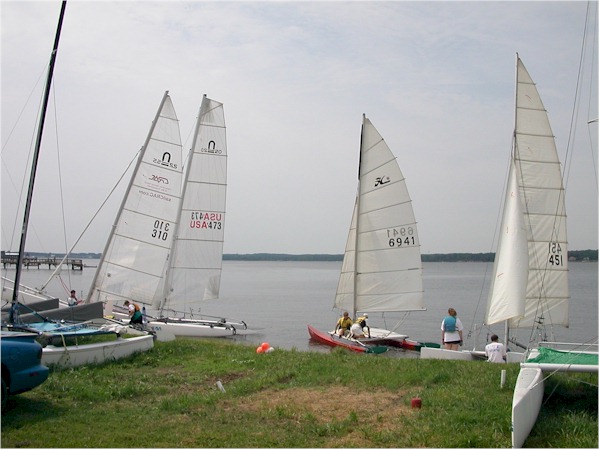 The winds being light, the others decided they better get moving while Mark set up. Unfortunately, Troy and Lynn had to head back early after a main sheet shackle failure. They retuned to the beach and fixed that, but in the light winds, they were too far behind to catch up.
Below is a map of the GPS track of Patrick and Matt. Launch was from Solomons (dark blue arrow). The blue line is the up river track, the green is down river. In dying winds, they and Pete and Linda aborted the Sandgates destination (red arrow) and landed at Greenwell State Park (green arrow).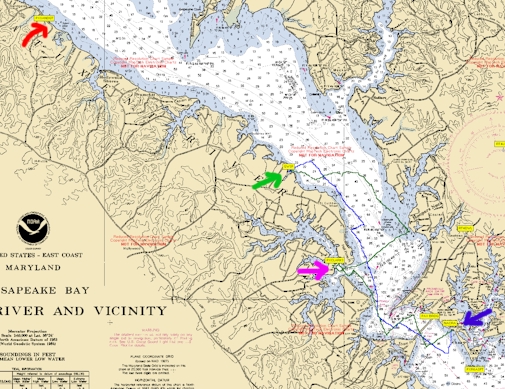 Bobby and John were further ahead near Brooms Island. They did not realize right away that the others had aborted.
After a short break, and agreeing that Plan B was to go to Clarke's Landing Restaurant the two boats headed back out. They could see one of the Prindles behind them had already turned back.
There was no wind to speak of, and they paddled out of the cove. Finally, (finally!), the wind shifted (see the curved green line) and picked up to a reasonable speed. It was a pleasant sail to Clarke's Landing (pink arrow) where they found Mark already waiting.
Troy and Lynn had tried to re-join the group but were hopelessly behind. They returned to the beach, and driving home over the Patuxent River bridge could see the 3 cats at Clarke's Landing, which they knew might be Plan B. They drove over and joined the group for lunch.
Bobby and John finally aborted after sitting for a long time around Broomes Island. The group saw him sail by past Clarkes Landing, but Bobby, always concentrating on speed, did not look to see the other cats there, so missed out on a good lunch.
Overall more wind would have been good, but everyone had a good time and is ready for the next adventure.
More photos will be posted once developed.
See Notes below on sailing catamarans to Greenwell State Park and Clarkes Landing Restaurant
---
A few members of SMCC who did not leave town for the holiday decided at the last minute to have a labor day sail, up the Patuxent River from Solomons to Greenwell State Park.
After an attempt on Sunday was aborted due to threat of rain, three boats set out Monday AM for a short sail up to the park for a picnic lunch. The wind was great at 10 mph but with some gusts to 15 to worry about, or have fun with, depending on your mood.
Sailing was Pete, solo on his antique Hobie 16, George and Sara on their Hobie 16, and Patrick with his 6 year old daughter on a Nacra 5.5SL. Patrick's wife Lisa and younger daughter met them at the park with the lunch for the picnic.
A great time was had by all.
Some Pictures:
Picnicking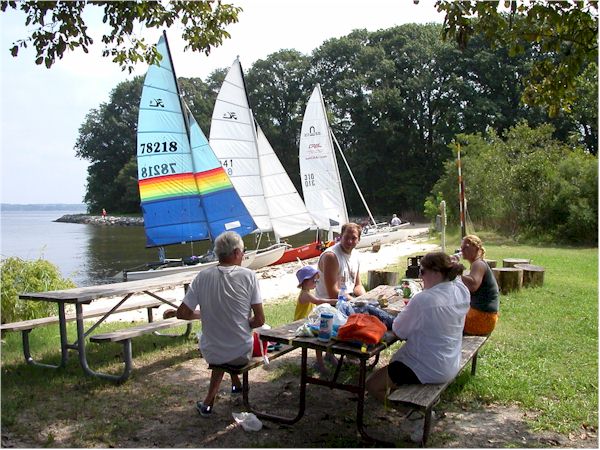 Boat Parking area. (The kids call it a beach.)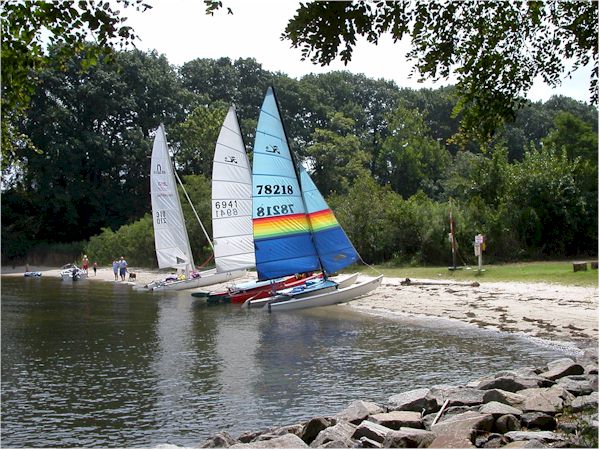 George & Sara, Pete, Lisa (adults Left-Right)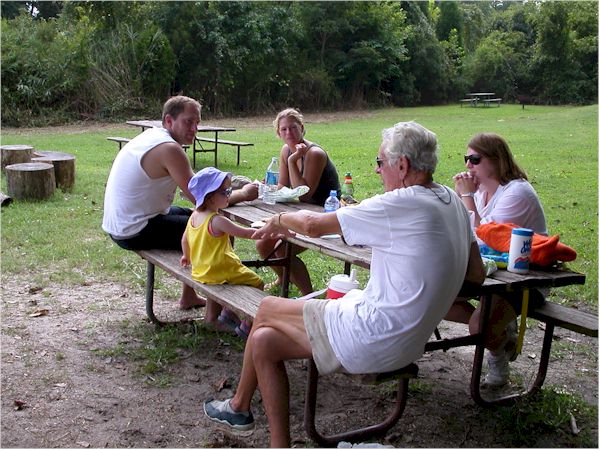 Pete (aka Doc)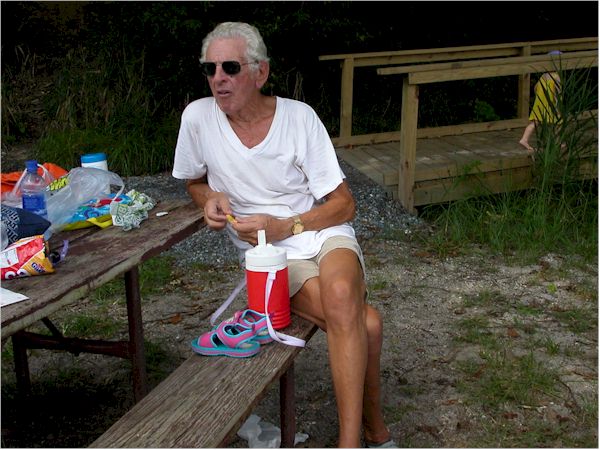 Patrick and crew and ground crew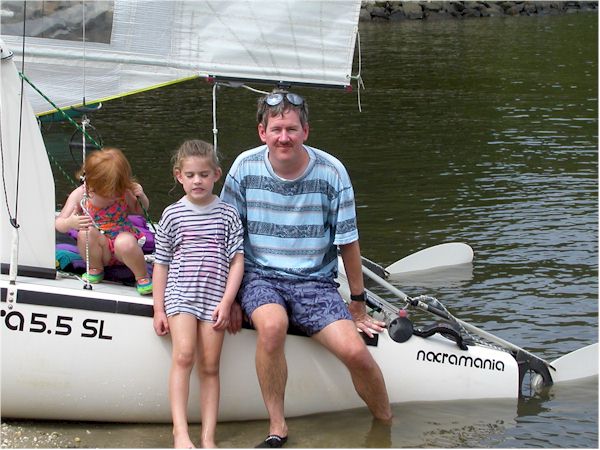 GPS Track for Patrick below.
Yellow is up to picnic, red is back down. Wind was so nice played around a bit after return, as did George and Sarah for even longer.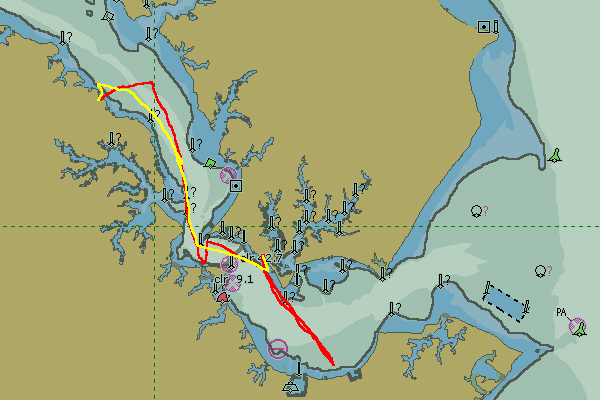 GPS Map generated using OziExplorer for GPS data transfer and mapping, using a source map captured from a NOAA ENC electronic chart displayed using SeeMyDEnc.
---
Note on Greenwell State Park: This park in St. Marys County Maryland has a small but nice beach on the Patuxent River very suitable to pull up a small boat onto for a picnic lunch, etc. There are no facilities other then a picnic bench or two. There is not much to identify the beach from the water so may be hard to find. Its nearly directly across from St. Leonards Creek entrance. Basically look for a gap in the rip-rap rocks. It is at GPS coordinates 38:22.07 N / 76:31.16W.
---
Notes on sailing catamarans to Clarkes Landing Restaurant in Hollywood Maryland. Clarke's Landing is accessible to catamarans but can be difficult to park at with the wrong winds. There are several piers to tie up to but tying catamarans up to piers is always a problem. There is a also a small beach in front of a bulkhead but much of it disappears at high tide, but thats still probably your best bet to park. Exiting the beach around the piers can also be fun. But the food and atmosphere are good and well worth the potential hassle.
---
(updated 9/2/03)