Nacra Roller Furling Jib Update
---
A description of one way to add Roller Furling to Nacra 5.5SL catamaran.
Summary of modifications made:
Front Stay shortened.
Roller furler hardware installed.
Halyard line added.
3 to 1 downhaul added to jib halyard above furler.
Jib mini-battens moved to be in-line with stay.
Cleat added to main beam for furler line.
Made jib cover sock.
Sounds like a lot of work, but it was not to bad, and it was well worth it. Recommended upgrade.
---
Front Stay shortened
My front stay was shortened by about 5 inches to account for the length of the roller furling top and bottom units.
---
Roller furler hardware installed
I installed a Harken 435 roller furler set.
Here is the upper unit.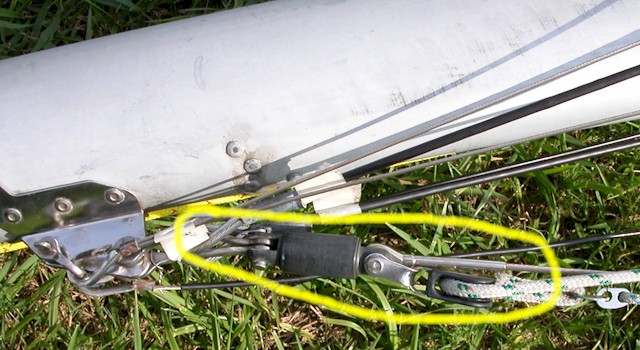 See photo further below of lower unit.
---
Halyard line added.
The jib halyard slides back down zipper when jib is raised. "sister clips" are used to remove extra halyard line once raised.
When the halyard is pulled tight, it takes up the load and the stay becomes loose. So it is important to use a good low stretch line for the halyard. But any line can be used below the sister clip.
---
3 to 1 downhaul added to jib halyard above furler
The roller furler uses a 3 to 1 downhaul setup. A small block is attached to a loop in end of halyard with shackle once the jib is raised. A line runs from this upper block becket, down to a lower block on the adjuster, back up to the upper block, and down to the cleat attached to the adjuster. (See photo)
Once the 3 to 1 line is hooked on, the sister clipped part of halyard is removed from the boat.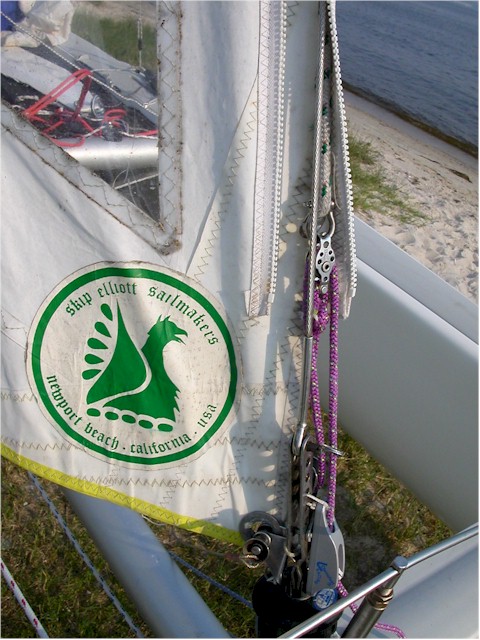 Here is a close up: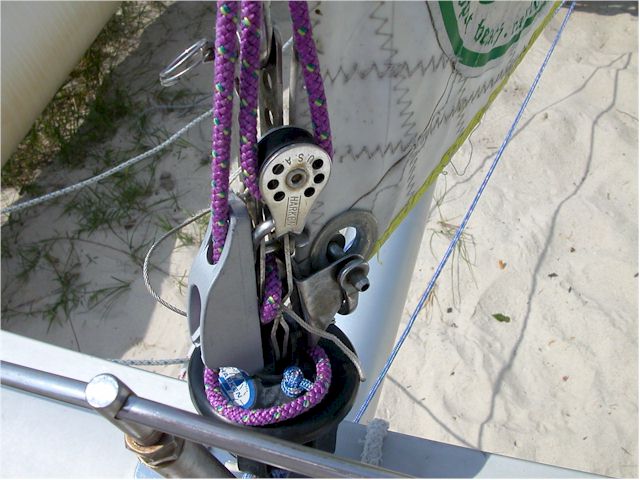 This setup is not easily adjusted on the water, but can be done while hanging up front on the wire.
(photo needed of halyard end with sister clips)
---
Jib mini-battens moved to be in-line with stay
Jib mini-battens were moved to be in-line with halyard wire, vice horizontal to allow better rolling.
A longer batten was used (11 inches vice 8 inches?)
In the photo below you can see the old batten position and the new batten pocket.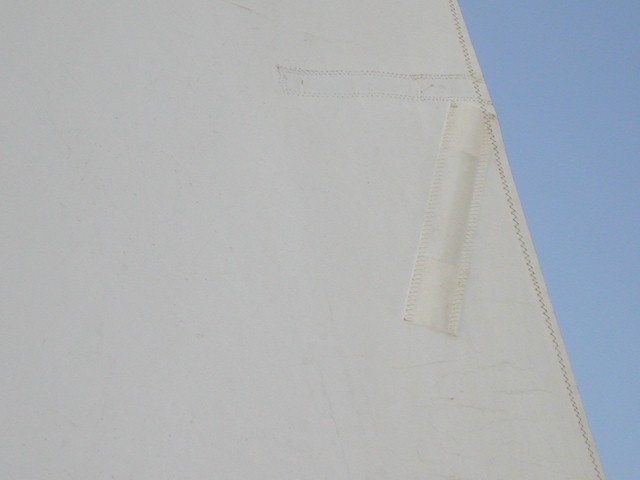 ---
Cleat added to main beam for furler line
Below is the cleat to hold the jib furled up. I mounted it just outside mast rotation block and tie off.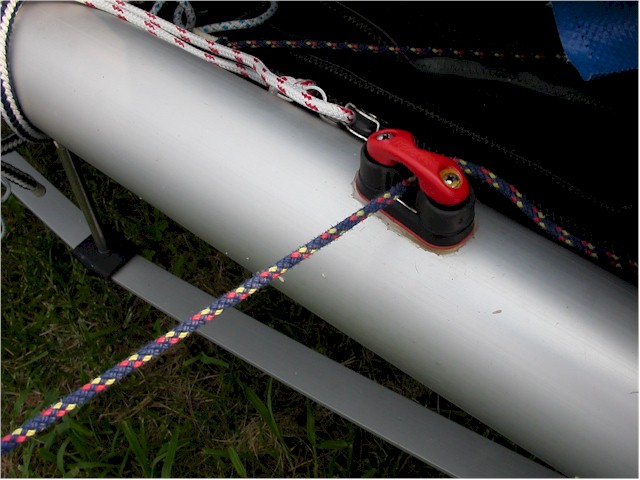 Note: I use a 1 to 2 (not 2 to 1) system to roll up the jib. This is for two reasons: 1) it rolls quicker, 2) it allows you to grab a bigger line.
See below.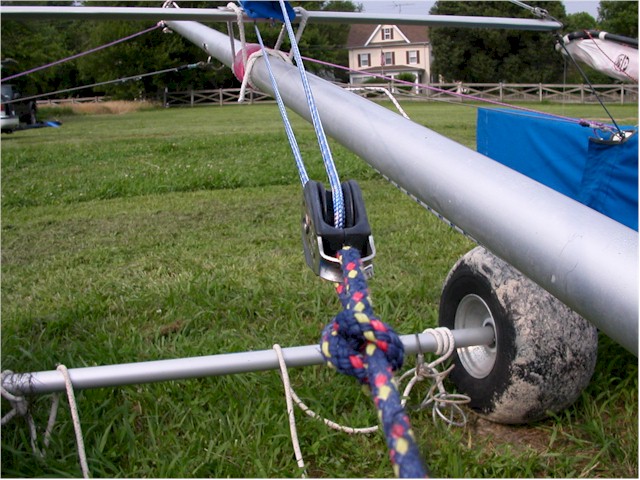 ---
Jib cover sock
I keep boat stored mast up so have sock to cover jib when rolled. Otherwise, the UV from the sun will eventually ruin the sail. It was a H-20/21 roller furler that I purchased then modified. Murrays Stock number (TBD).
I had to shorten the sock and also sewed over some of the extra fabric from the circumference to make it fit tighter. I also modified the zipper so I could also zip up from the bottom. Its all a little to hard to describe here.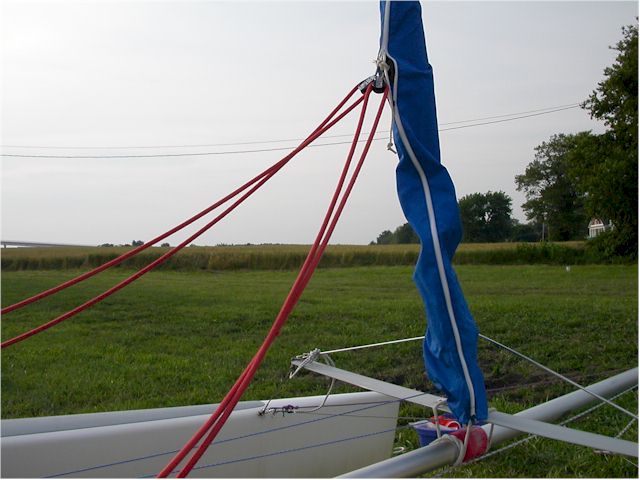 ---
Comments
The jib just barely fits because of the space lost due to the roller furler. My mast is raked back some to get full extension on adjuster to stay. My jib would have to be shortened to put mast up straight. I have heard Nacra jibs vary some so ... this may not be an issue for everyone.
If you are *serious* about racing, I don't think there is a huge impact, but I would keep your old stay and leave the furler off when racing buoys. You might want roller when distance racing to have flexibility in changing wind conditions.
---
Patrick Ragen
Nacra 5.5SL #310
(June 2003. Updated July 2003)