Nacra 5.5SL Hiking Foot strap Upgrade
---
I put foot straps on my Nacra 5.5 behind the rear beam. The foot straps are very handy when in heavy air or down wind when you are at the back of the boat. They will hold you in place for all but the worst conditions.
---
Description
The foot straps I used were from a windsurfer.
There is not much room behind the rear beam on the 5.5 to work with. I based my location on another 5.5 that had foot straps. The forward part of the foot strap is just behind the rear beam and is bolted in with the rear beam strap bolt to avoid drilling a hole. For the rear I drilled a hole, straight back and very near the center line of the inspection port, but near the hull edge, for strength. The other 5.5 I copied from drilled out a rivet in the inspection port and put a new bolt there to avoid putting another hole in the boat. I did not think putting that stress on the lip of the fiberglass at the port was a good idea. You could probably go back a foot further to the end of the hull, but this position seems to work well for me.
---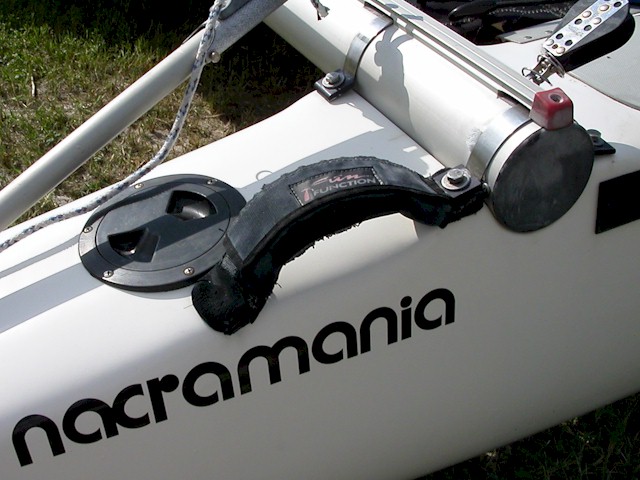 ---
Comments
Easy and recommended upgrade
---
Patrick Ragen
Nacra 5.5SL 310
(July 2003)